China challenge, India's importance — 10 highlights of Japan PM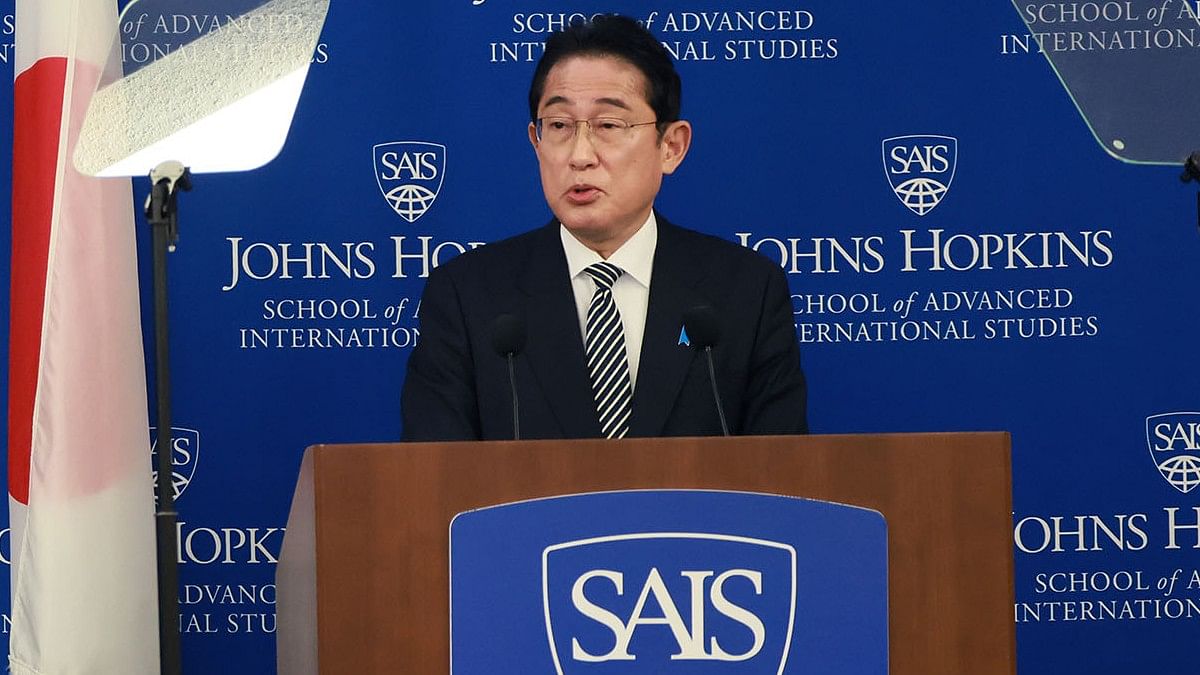 New Delhi: From the importance of India as a bilateral partner, which assumed G20 presidency this year, and 'security' challenge emanating from China to highlighting how the international community is at a 'historic turning point' with the ongoing Russia-Ukraine war — these were some of the key highlights of the speech Japanese Prime Minister Fumio Kishida delivered at the US-based Johns Hopkins University.
This comes after Japan formulated three key defense planning documents last year — the National Security Strategy, National Defense Strategy, and Defense Buildup Program. 
ThePrint briefly explains 10 highlights from PM Kishida's speech before the university's School of Advanced International Studies (SAIS), Washington, Friday:
Importance of India
In his speech, Kishida highlighted the importance of Japan's relationship with India, especially now that the country has taken on the G20 Presidency.
"India is this year's G20 presidency and a partner with shared fundamental values and strategic interests," he said.
He added that India is expected to surpass China's population and stands as the world's largest democracy, and promised to enhance the "Japan-India Special Strategic Global Partnership" and work with New Delhi to create a free and open Indo-Pacific.
He also resolved to further bolster Japan's cooperation with India and Australia, "including through the Quad".
Quad, or the Quadrilateral Security Dialogue, is an informal strategic forum of four nations — the US, Japan, Australia and India.
Also Read: What Modi-Zelenskyy call signifies — 'India's stature rising despite Russian oil backlash'
Relations with China
Kishida also spoke at length on the challenge emanating from China and the need to come to a common understanding with Beijing on the state of the international order.
Referring to his meeting with Chinese President Xi Jinping last November, Kishida said he had "expressed concern about the situation in East China Sea including the Senkaku Islands and China's military activities".
"… we will firmly maintain and assert our position and strongly call for China's responsible actions, while at the same time continuing dialogue… I believe that both sides need to make efforts to build such a constructive and stable relationship," he said.
Realism diplomacy
Kishida also highlighted the importance of "realism diplomacy" — a phrase he first used during a speech in December 2021. Analysts have decoded it to mean seeking a balance between national interests and making rational, strategic judgments based on the realities of the world order. 
He also called for diplomacy to be backed by defense capabilities. "Reinforcing defense capabilities will also lead to persuasiveness in carrying out our diplomatic efforts," he added.
Japan-US alliance
Noting that Japan's alliance with the US is an "anchor" and that Washington is its "most important ally and closest of friends", Kishida called for further strengthening the bilateral relationship, including in areas like space cooperation and semiconductor production.
However, while expressing concerns about economic security and supply chain issues, Kishida urged the Biden administration to rejoin the Trans-Pacific Partnership (TPP), a proposed trade deal between the US and 12 Pacific Rim economies. The Trump administration pulled out of the TPP in 2017.
"The United Kingdom, China, Taiwan, and others have expressed their intention to join this agreement…the United States' return is of paramount importance," said Kishida.
Also Read: What shunting 'wolf warrior' Zhao out of foreign ministry could mean for Chinese diplomacy
International community at a 'historic turning point'
Citing Russia's invasion of Ukraine, Kishida remarked that the "free, open, and stable international order is in grave danger". He described the Russian aggression as "a moment that will transform history" and that the future of the international community rests on how countries respond to the aggression.
"If we let this unilateral change of the status quo by force go unchallenged, it will happen elsewhere in the world, including Asia," he warned.
Japan's shift in policy toward Russia
Unlike in 2014, when Russia annexed Crimea, Japan has been quick to join Western-led sanctions against Russia and has repeatedly asserted that Moscow's actions were a violation of international law.
Kishida remarked that Japan, the only Asian member of the G7, helped turn the fight against Russia "from a Trans-Atlantic one to a global one" by deciding to join the West in imposing sanctions on Russia. 
Without naming countries, he added: "We are observing an increasingly clear trend in countries and regions around Japan: reinforcement of nuclear and missile capabilities, rapid acceleration of military buildups, and attempts to unilaterally change the status quo by force."
He also promised to step up the "defense posture" in the southwest region of Japan.
UNSC reform
India, Japan, Brazil and Germany have received support from certain sections of the international community to sit as permanent members in an expanded UN Security Council.
In his speech, Kishida promised to take on efforts to "materialise" the movement for Security Council reform, especially at a time when "trust in the UN is at risk due to Russia's aggression".
Improving relations with global south
The Japanese PM also called for improving relations with countries of the "Global South" and engaging them with humility by putting aside "preconceptions". 
The phrase "Global South" mainly refers to developing nations in regions like Latin America, Asia, Africa and Oceania.
"Many of them are boosting confidence in their own economic development and are seeking a greater voice on the global stage. We cannot have our values imposed as they are," he said, adding that the Global South will be critical in creating the next international order.
Also Read: Era of Russian fossil fuels over in Europe, need to isolate Moscow, says EU Ambassador to India
Security threats from North Korea
Kishida also spoke on security threats emanating from its neighbour North Korea, adding: "The security partnership among Japan, US, Republic of Korea (South Korea) is becoming increasingly important."
"You may be worried about the relationship between Japan and the Republic of Korea, but I intend to resolve the bilateral issues of concern as quickly as possible, to restore sound Japan-ROK relations and then to further promote them," he assured.
Japan and South Korea have faced bilateral tensions over the past few years, relating to a trade feud, historical grievances owing to Japan's occupation of Korea and more. These tensions were acutely felt at last June's NATO Summit when a meeting between leaders of the two countries was almost scrapped.
Strengthening international community & multilateral forums
The Japanese PM called for strengthening the unity of like-minded countries, especially those in the G7 and the Quad.
"I will further make strides in our cooperation with India and Australia, including through the Quad…," he said.
In May, Kishida will speak at the G7 Summit in Hiroshima, where he plans to reject Russia's threats by nuclear weapons, and "attempts to overthrow" the international order.
(edited by Anumeha Saxena)
Also Read: Why India doesn't recognise Kosovo's statehood, despite new Kosovan trade office in Delhi