Lessons from Japan for China's population crisis
Japan, which has had a declining population since 2008, offers a potential snapshot of China's future. Japan has been battling economic and political stagnation since its asset price bubble burst in the early 1990s. With almost 30 per cent of Japanese aged over 65, the country's public pension system and rural infrastructure is under huge strain.
While life in Japan's wealthier cities, such as Tokyo and Osaka, is comfortable by global standards, the country faces a demographic crisis. Rural Japan is struggling to maintain vital infrastructure such as schools, hospitals and rail links as the number of children and working-age residents shrink. There are an estimated 10 million empty homes in Japan following mass migration to the cities.
"Our biggest challenge is that the elderly here now need to go into nursing care. There are no jobs to attract young people to stay in the community," Tachimi Kodama, 70, who lives in the Japanese town of Gojyme with his wife and 94-year-old father and 90-year-old mother. Gojyme, which has 8538 people of which half are aged over 65, is in Akita prefecture off the Sea of Japan coast.
Demographers warn China faces a similar scenario in coming decades, although its population crisis will be at a larger scale that could accelerate more dramatically than Japan's has. Japan's population decline has been gradual and, so far, manageable in a country that is relatively wealthy compared to developing China.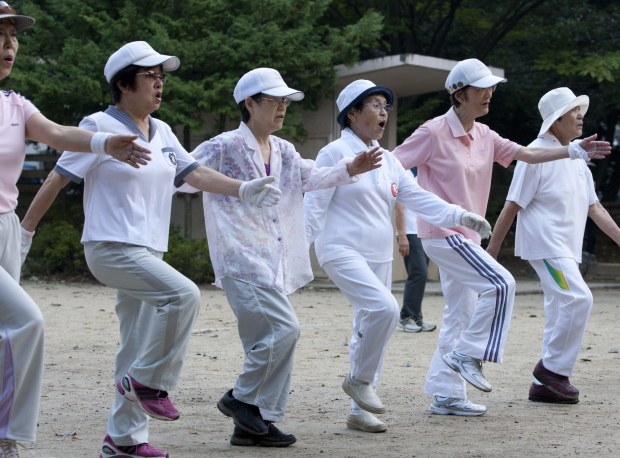 People exercise to the NHK morning radio calisthenics broadcast at a park in Tokyo Tomohiro Ohsumi/Bloomberg
Japan's population, which exploded after World War II and peaked at 128 million, has been declining since 2008 with the numbers accelerating each year. The population shrunk by 20,000 in 2008, but this increased to 640,000 people in 2021. The number of people aged 65 and over is expected to increase to 35 per cent by 2040, according to the National Institute of Population and Social Security Research.
For the first time last year more than half of the 800 municipalities in Japan were ranked as being wholly or partially underpopulated. Even Osaka and Tokyo, typically the biggest drawcards for young people escaping the country, are seeing population declines.
By contrast, the United Nation expects China's population to shrink by 109 million by 2050, which is three times more than it forecast in 2019.
Experts say Japan's efforts to manage the decline offer lessons for China and other countries facing population declines. China also has the advantage of studying the policies that have failed in Japan.
"Recently, Chinese authorities have rushed to launch a series of policies to boost fertility, but they are likely to fail like Japan," Yi Fuxian, a demographer at the University of Wisconsin-Madison, says. "What the Chinese government want to do, the Japanese government has already done."
"Japan's approach has proved expensive and inefficient, temporarily boosting the fertility rate from 1.26 in 2005 to 1.45 in 2015 and back down to 1.23 in 2022. China, which is 'getting old before it gets rich', does not even have the financial resources to fully follow Japan's path."
Japan's advantage over China is that it did indeed get rich before it got old. The country's economic boom in the 1980s set many of its elderly up for relatively comfortable lives in retirement, although this is not often the case in rural areas where pensions are working well into their eighties and nineties to supplement their pensions.
A man walks past a shelter containing dolls that are hand-made and placed around the village by local resident Tsukimi Ayano to replace the dwindling local population on April 22, 2016 in Nagoro village, in Miyoshi, Japan.  Gettty Images
"It is very likely that we will face a more serious population crisis than Japan and South Korea," a commentator for China's Mizhai Finance warned on a social media post this week.
It noted that in 2021, China's per capital GDP was about $US12,800 ($18,500) compared to Japan's per capital GDP of $US42,000 in 2010 when its population started declining and $US34,700 for South Korea in 2021.
"Compared with the economic development level of Japan and South Korea, the time point for the negative growth of my country's total population is obviously coming too early," it said.
Japan's other challenge has been poor labour productivity, partly due to a culture of excessive bureaucracy and working long hours or not leaving the office until your boss does even when there is nothing to do. The IMF says Japan's productivity has been the lowest of the G7 countries since 1989.
Its big advantage over China, though, is its strong social security safety net and a high level of healthcare which has contributed to Japanese people living longer than anywhere else in the world.
As Japan's pension and healthcare costs accelerate, policymakers and business leaders are alarmed at the size of the country's 130 trillion yen ($1.45 trillion) social security expenditure. However, business leaders say China could use Japan's experience and data to find its own solutions to the population crisis.
"It is a huge industry of 130 trillion yen, and it is a growing industry, and Japan is the forerunner. Japan may well be able to export our expertise globally," Kohei Takashima, executive director of the Japan Association of Corporate Executives, told an online forum this week.
Like China, Japan's cost-of-living pressures and more interest in women joining the workforce rather than being stay-at-home mothers means birthrates are declining. While China has also experienced an exodus of young workers from the countryside to its cities, Japan has become a nation economically divided between poor rural areas and the urban corridor stretching from Tokyo to Osaka on the country's main island of Honshu.
Immigration allergy
Japan, like China, shies away from boosting its population through immigration. Murai Yoshihiro, the governor of Japan's Miyagi prefecture last week called for the country to accept more immigrants to counter the population decline. "Now's the time to take bold action with the assumption that the population and birth rate will keep declining," he said. It is an unpopular proposal in a country where many residents do not favour aggressive immigration.
Back in Ohi, Hagihara says he is hopeful that the COVID-19 pandemic may have changed the mindset of young Japanese workers and encourage them to consider working remotely in rural areas.
"I have a bit of hope for a younger generation that their way of thinking may change because of COVID-19 and they realise they don't really need to be in the city to do what they want to do," he says.
That may be wishful thinking. Hagihara says despite the attractions of country life, he cannot convince even his own grown children to return to the town.
With Noriko Honda