Tokyo lodges protest after China punishes Japanese travellers over Covid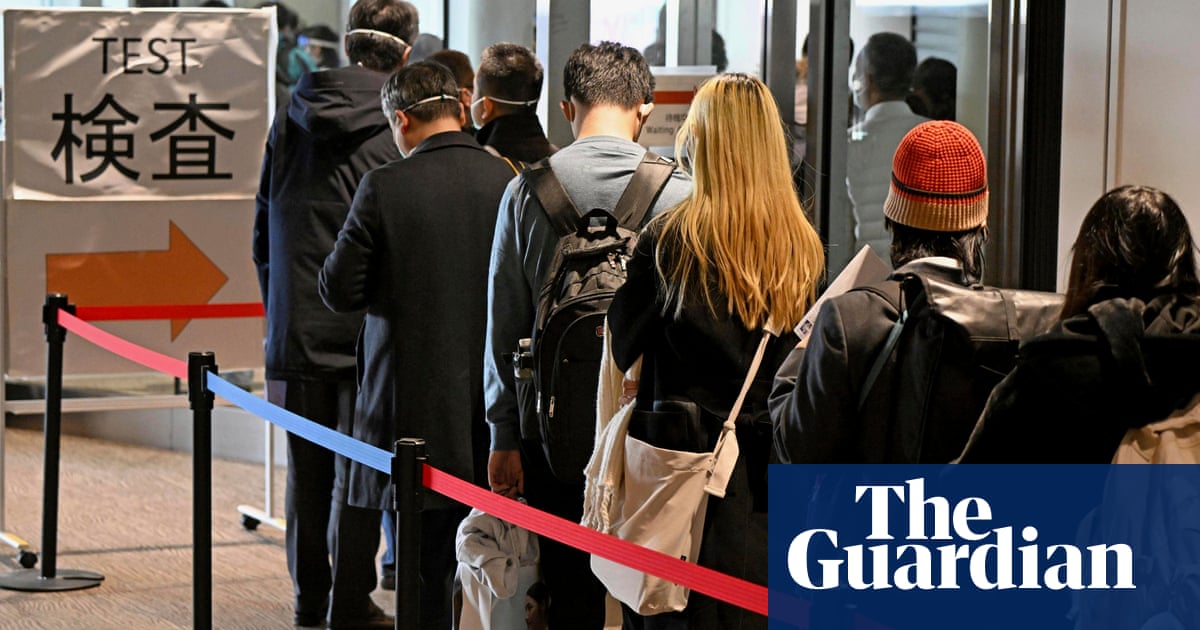 Japan has lodged a protest with Beijing over its decision to suspend the issuance of visas to Japanese citizens in retaliation for Covid testing requirements for travellers from China.
Chief cabinet secretary Hirokazu Matsuno characterised the move as an act of revenge rather than a public health measure and requested China reverse the decision. "It is regrettable that China unilaterally has taken visa suspension action for reasons other than steps for the coronavirus," he said on Wednesday.
China's government suspended processing of the visas on Tuesday after the suspension of short-term visas for South Korean citizens earlier that day.
Japan and South Korea are among a number of nations, including the US, Australia, Canada, Morocco, and a number of European countries that have announced new entry restrictions or measures for travellers from China in light of the mass outbreak of Covid-19.
Many, including Japan, announced negative test results were required for all entrants from China. South Korea stopped issuing some short-term visas to visitors from China. China itself still requires negative test results for all inbound travellers.
Speaking in Argentina, Japan's foreign minister, Yoshimasa Hayashi, condemned China's decision and said Tokyo had protested via diplomatic channels. Imposing restrictions on issuing visas for reasons other than Covid-19 countermeasures was "extremely regrettable", Hayashi said.
Regarding Japan's stricter border controls for Chinese visitors, Hayashi said: "The measures have been put in place so as to hinder the global movement of people as little as possible.
"We will examine the Covid-19 conditions in China and how the country discloses information, and act accordingly."
On Wednesday, South Korea's foreign minister Park Jin described China's decision to halt the issue of short-term visas as "deeply regrettable".
China's suspensions were announced in brief online statements by its embassies in the respective countries, with the South Korea notice saying it would continue until Seoul lifted its "discriminatory entry measures" against Chinese travellers.
Wen-ti Sung, a political scientist at the Australian Centre on China in the World, said the restrictions on South Korea seemed to be a straightforward attempt at exerting reciprocity, while for Japan it appeared more geopolitically targeted.
Sung said it was unclear if further restrictions on other countries were in the pipeline, but Beijing was unlikely to target European governments while it was focusing on strengthening relations there.
"China is signalling its protest against Japan's closer security cooperation with the US over Taiwan," Sung said, citing recent announcements from Tokyo about increased defence spending and military talks with the US.
"In this sense, Japan may be China's main target. South Korea may be a collateral damage that gets thrown into the mix to make Chinese sanctions against Japan more 'principles-based' rather than China singling out Japan, which would have damaged China-Japan relations further."
A South Korean foreign ministry statement said that "our government's step to strengthen anti-virus measures on passengers arriving from China is based on scientific and objective evidence … and we have communicated with the Chinese side in advance."
China's government ended its long-running zero Covid policy late last year, and has since seen an apparent explosion in cases. The shift in policy included ending mandatory quarantine for arrivals and resuming the issuance of passports, leading to a sudden jump in Chinese tourists booking overseas trips.
There are global concerns about Beijing's transparency regarding the outbreak. It soon stopped publishing daily infection tallies, ended mandatory mass testing, and tightened definitions of Covid-attributable deaths. It has led to official daily numbers astronomically lower than what health experts and observers estimate, who point to overrun hospitals, mass reports of infection by citizens on social media, medication shortages, high levels of workplace absenteeism, and evidence of overwhelmed morgues and crematoriums.
Chinese officials, however, have maintained the change in policy and current response is successful and based on science.
At a regular press briefing on Tuesday, foreign ministry spokesperson Wang Wenbin, accused some countries of taking "discriminatory" measures, "in disregard of science, facts and their actual epidemic situation".
"China firmly rejects this and will take reciprocal measures … Covid response should not be used as a pretext for political manipulation. It should not be discriminatory and should not affect normal cross-border travel and people-to-people exchange and cooperation."
Associated Press and Reuters contributed to this report